Christmas is perhaps the most magical time of year, especially for children, and it can be made even more magical with personalized unicorn Christmas stockings. Many families have different traditions and ways of doing things, but most households include Christmas stockings in their rituals, and I certainly remember stockings being one of the most special parts of Christmas in my own childhood.
A personalized Christmas stocking is a wonderful way to make children feel engaged and excited, and adding unicorns to it – well, that might just top everything else for being magical! Most children will love the idea of entrusting their precious presents to these mythical equines while they sleep through the night, and then getting them first thing in the morning.
Here are some of our favorite ideas for unicorn Christmas stockings – some to purchase, and some DIY ideas for crafty parents looking to create something totally unique!
🎄
Ready-Made Unicorn Christmas Stockings
Christmas can be a busy time even for the best-prepared parents, and you might prefer to purchase something special for your child. There are lots of beautiful unicorn options out there to make Christmas Eve feel particularly magical, and it was hard to choose, but here are a few of the nicest!
Cute & Soft & Unicornizing
If you're looking for something for a pink-lover as well as a unicorn-lover, this adorable stocking would be absolutely perfect. It looks soft as velvet, and is definitely personal to the child, with their name in beautiful swirly script. I love the unicorn's happy little face, and the way the stocking has been shaped like a unicorn while still very much being a stocking – extremely clever!
Filled with presents, this would make for a truly magical Christmas morning.
Pink Makes The Christmas Twink
For another option with even more pink, this stocking matches the first for its happy expression, and again it can be personalized, with even the color of the thread matching your choice! I love the swirly mane, which looks a bit like ocean waves, and the lovely little stars. It looks high quality, and  would delight any kid who loves unicorns.
Glitter And Gold- Sparkle Up Your Christmas
Though not personalized, this glittering Katie Doodle stocking is a wonderful way to add some serious sparkliness to Christmas. It would look absolutely amazing glinting in the firelight, and kids will love running their hands over it and feeling the sequins move. I also love that the unicorn's face is the bottom of the stocking, which is a more unusual design, and that beautiful silver horn looks great. 
Light Up Your Stocking
If you want to literally put a bit of light into the magic of stockings, this stocking with LED lights is a definite option. Twinkling above the fireplace in a dark room, this would look amazing, especially with those cute rainbow patches and the sparkly horn and ears. Perhaps Santa can even use this as a guide for his reindeer so they don't get lost, or so he doesn't trip over anything as he crosses the room!
Either way, it's perfect for enchanting children of all ages with some light-up Christmas magic.
Oldschool Classical Stocking
For those parents who go the opposite way, and prefer a natural, rustic look for Christmas, this oldschool stocking might make a better choice. I think the design would appeal to a slightly older child, but it's still lovely bright colors, and would probably last for years. I love the applique design, and it would be simple to make your own version of this if you felt inclined to!
The colors are very Christmassy, but also manage to be unicorn-y, really combining the magic of the two things. I particularly love that deep red trim at the top.
Santa's Sacks Under the Christmas Tree
Our final choice for purchasing isn't a stocking, but would make a lovely addition to one of the above – these Christmas present sacks look absolutely amazing, and the message "Always Believe." I totally love the creative mix of the unicorn with reindeer horns, and the stars and glittery baubles look great.
I can't think of anything more magical than heading downstairs on Christmas morning and being greeted by one of these overflowing with presents – especially after delving into a unicorn stocking!
These sacks look the same but are also possible to personalize with your child's name.
DIY: Unicorn stocking With Kids
If you feel like getting creative, why not involve the kids? After all, Christmas is about spending time together, and this would be a lovely activity to do, resulting in some wonderful memories which you and your child – or children – can treasure each time the stockings come out. Some parents like to do an activity advent calendar rather than a chocolate one, and this would be a lovely idea for one of the days leading up to Christmas, possibly even for Christmas Eve itself!
Easy Crafting To Decorate Unicorn Stocking
It's probably a good idea to keep things relatively simple when children are going to be helping out, and you might want to make a few of the pieces in advance, or buy some ready-made bits, such as these plain stockings here before you get started on the crafting.
These instructions are nice and clear, and look like they should be pretty simple to follow, even for little ones.
Materials needed: Colored Felt, glue gun, burlap stocking
A few bits of colored felt, a glue gun, a burlap stocking, and you'll be well underway! Just make sure small fingers stay away from the hot glue gun or sharp scissors.
I love how this stocking turns out so bright and colorful, and you could even vary the design to include your child's favorite colors. It would be nice and easy to personalize this stocking too, with some more felt, or even just a good marker pen and some careful lettering – you might want to make yourself a stencil to ensure you don't slip!
Adorable Unicorn On A Stocking – DIY
This video also offers some very easy looking instructions for a bright and super cute unicorn stocking. It looks slightly more complex than the previous suggestion, but if you're crafting with a little one, you could probably cut most of the pieces out in advance, and spend the time with your child arranging and sticking them in place. They'll love having a stocking they have helped make themselves, and it would make for a great activity – though be prepared for the inevitable mess that combining kids and crafts causes!
Materials needed: Felt glue, pink stocking (or burlap stocking), craft felt, foam letters, scissors.
Rainbow Unicorn XMas Stocking
If you want to go even simpler, you could try this Craftbits tutorial, and could make it easier still by using a ready-made stocking, and just attaching a cardboard unicorn head to it. Kids would have so much fun decorating the unicorn head, and you could add a special memory to it each year to make a real family heirloom from it.
Materials needed: White Stain fabric, Felt Fabric (4-5 different colors), hotglue gun, scissors, white foam board, yarn or string, stocking template, tailoring chalk.
Unicorn Fabric Stockings – What A Lovely Craft
If you've found some particularly lovely unicorn fabric, you might just want to make a plain stocking using that fabric, and this would also be super easy for kids to get involved with. This "Diary of a Quilter" tutorial will show you step-by-step how to make a simple stocking shape, and then you and your child can choose exactly how to decorate it!
Here is one video tutorial for video lovers. Enjoy your crafting:
Unicorn Fabrics To Use For Personalized Stocking
You might not have selected your fabric yet, and there are a plethora of options when it comes to unicorns – here, we've just stuck to Christmas-themed ones, but there are so many others you could choose from, and the stocking and occasion will ensure they're still Christmassy! 
Cheerful, Pink And Funny Unicorns Enjoying Christmas Vibe
I love these both of the fabrics on offer because they are so detailed and unusual, and I love the swirls and stars and holly leaves – and of course, the unicorns themselves! If, like me, you would struggle to choose between these two, you could do different colors on either side of the stocking for a really unique look.
Sleepy Unicorns On Cute Moon-Snowflakes Style
This Christmas Moon fabric is also beautiful, and would make an amazingly magical stocking. Imagine falling asleep with this at the foot of your bed! Sweet dreams guaranteed! I love how peaceful and soft the little sleeping unicorns look, resting on their moons with the stars and snowflakes sparkling around them. Any stocking made of this fabric would be instantly magical, and I think kids would love to help sew a stocking made of this.
Grey But Christmassy
For a final option, this Christmas unicorn fabric is a lovely soft gray, but those unicorns keep it bright and exciting and cheerful with their rainbow manes. I love all the different poses and the pretty snowflakes and fir trees. You could use any of these fabrics as the trim for an existing stocking if you really want to keep the crafting simple!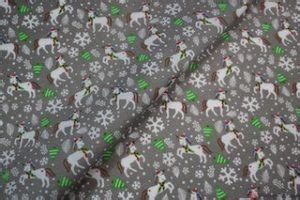 Bonus: Rainbow Unicorn
And we can not just leave the Rainbow Unicorn options out from the stocking. This rainbow unicorn tulle helps to decore any stocking. Use the imagination and Christmas magic. Enjoy the crafting!
DIY For Adults- Ready For A Crafty Challenge?
You might want to make a Christmas stocking as a surprise for Christmas Eve, and if that's the case, you could use any of the above ideas, or get a little more complicated if you're feeling up to a challenge! Of course, any of these ideas could also be done with a child's help, but they're slightly more geared toward adult skills.
Adorable Crocheted Stocking
This downloadable pattern will show you how to make a totally gorgeous crocheted stocking. I absolutely love the unicorn's face in this, especially as it's 3D. It's a really nice mix of colors, but you could change and adapt them to suit your child's tastes. You could even make a few of these to gift to nephews and nieces, or your child's friends, if you have a bit of spare time! A little more time and some embroidery thread, and it would be very easy to add a personalized name to this, perhaps on the white band at the top.
Felt Stocking
If you prefer felt stockings to crocheted ones, this Rhia video looks reasonably easy to follow, and the end result is really professional!
If I'd made one of these, I'd certainly be showing it off to friends and family, and eagerly awaiting my child's reaction come Christmas Eve. I might even be tempted to make one for my goddaughter this Christmas; she's just about old enough to really relish the magic of stockings, and I love the applique and overall look of this one. You could swap the snowflakes for stars if you wanted, but I think it looks perfect!
Needle And Thread
For those who are reasonably confident with a needle and thread, this Yesenia video will also help you produce an amazing stocking in a very different style. I really love the bold flower decorations and that glittery horn, and if making several, you could use different colors to represent each child. Santa won't need to pack any magic in his sack with these stockings – they've got plenty of their own!
Unicorn Stencils
A final option is to make or buy some plain stockings, and then use unicorn stencils to brighten them up.
I love the simplicity of this unicorn head stencil: it's just ears, stars, and a horn, and yet it's totally clear what magical animal it represents! The stars also make it lovely and Christmassy, and it should be easy to do.
Alternatively, this rearing unicorn would look spectacular on a stocking – just make sure it will fit before purchasing. 
You could then purchase a name stencil to personalize the stocking, or add some Christmas-themed ones, such as these lovely trees and other Christmas symbols. If you're confident in your drawing skills, you could make your own stencils with some thick card, and have a stocking totally designed and created by you!
All In A Sock 🧦
Whatever sort of stocking you choose, whether bought or handmade, it will bring magic and wonder to Christmas Eve and Christmas morning, and the unicorns will make sure of that! They are such amazing creatures and they will offer protection for those all-important presents, as well as sparkliness and beauty for the stocking itself, and plenty of joy for the child who owns it. We hope you've been inspired by our personalized unicorn Christmas stocking ideas; I'm certainly feeling like doing a bit of crafting myself.
If you do decide to DIY your stockings, we'd love to see some pictures, especially if you make them with your kid! Send us a few so we can enjoy the unicorn Christmas magic with you. We hope these ideas will help you to make another element of Christmas special with some unicorn wonder, and that your mantelpiece or the foot of your child's bed – wherever stockings go according to your tradition – will look incredible this Christmas!
PS: In case you need inspiration for Unicorn themed Christmas tree or Personalized unicorn Christmas Baubles, we have some!