As the colder autumn evenings are starting to infiltrate and take over the summer warmth, overpowering those lovely days when you can just hang outdoors in a simple summer dress, I find myself constantly rummaging in the wardrobe for warmer clothes. No kidding: my skirts and dresses are already being replaced by jeans and hoodies. For me, nothing beats a comfy hoodie. Added to that, my entrepreneurial attitude and love for fantasy have recently made me really fond of unicorns – which is why I've started looking for ways to combine the two!
Unicorns are not just for kids. They carry a great message for startup businesses, offering inspiration for books, poems, and business generally. They encourage us, embolden us, challenge us to be different and powerful – to at least show our horns when faced with challenges. To me, unicorns represent freedom and independence – things most of us aspire to every day.
Look at all these cool adult unicorn hoodies and give me "high five" if you see me strolling down the street in my unicorn hoodie, full of confidence and satisfaction. I could not be more excited to introduce you to my favorite adult unicorn hoodies. Check them out:
If you seek colors, fantasy, and self-confidence
We all link unicorns with fantasy, magic, and mystery. Even though we feel we know a lot about them, there is still a lot to learn. Are they actually real? Where can you find them? What do they look like? 
Well, this is all up to us. I know for sure that they are real – at least in the Harry Potter books and in my own head. And that is why I love fantasy – there is enough room for our own little worlds, and each of us will answer these questions uniquely and passionately.
Here is a unisex 3D fantasy unicorn hoodie for adults. You can expect to attract plenty of attention while wearing it, but I can't imagine anything more perfect for a casual meeting with friends in the coolest hipster bar in the city. Full of attitude, magic, and fantasy, this hoodie embodies self-confidence, a touch of interesting uniqueness, and a taste of the artsy. Warm enough for late evenings, with a snug hood and deep pockets, it's perfect for the early chills of the year. This hoodie has soul on it, so wear it and tell the crowd: "It's showtime!"
Here is a softer version of a similar hoodie – with more gentle pastels for a dreamy unicorn feeling. I would love to wear this on late walks on the seaside or strolls through darkening streets, perhaps while listening to calming music, dreaming of the future, and remembering the happiness of the past.
Yes, unicorns are my soul-animals, the companions of my dreams and happiness – even at the age of 30!
Unicorn hoodies with a girly touch
If you're someone who likes to mix pink and black, here is the perfect hoodie for you. It manages to be funny and girly, without going over-the-top on the pink.
I also totally love the surreal idea of eating glitter for breakfast – a great twist on Nicholas Cage as Stanley Goodspeed's "I love pressure. I eat it for breakfast." in "The Rock." Let us know if you find a male version of a hoodie with Goodspeed's quote! Meanwhile, get yourself the glittery one. The hoodie is 100% cotton, perfect for sheltering from cold winds on wintery days!
If that one isn't quite pink enough for you, here is one with a little more color. It asks everyone around you to start using their imagination, offering only eyes, horn, and ears – and yet we all know, you belong to Team Unicorn!
For a more adventurous soul, I found a great black and pretty minimalistic hoodie with a perfect message emblazoned across it. Check it out here (ETSY link). Wearing this hoodie, you can become a true wayfarer, satisfying your wanderlust, and staying warm in the process, never sure what tomorrow will bring and relishing that very uncertainty!
This hoodie is for people who grow in experience rather than years, for whom unexpectedness is the magic of everyday. Join the adventure club: an epic experience is waiting and this hoodie will keep you warm throughout. A superb gift for the wanderer! You are very welcome to send me one; I could even have a different color for each day to be even more adventurous!
For a more dramatic look, it's possible to actually become a unicorn with this hoodie! This cosplay hoodie is perfect for costume parties and is must-have winter gear for those long evenings that will soon arrive. I cannot imagine a warmer garment to curl up in. You'll feel safe and secure beneath the hood, and you might even start a new family winter tradition, where each family member becomes their favorite animal.
If you want to get even crazier, here is a unicorn onesie to wear on those occasions.
Unicorn hoodies if you're look for minimalism and black
Even though I love brightly colored clothes, I still often dress plainly, which means easy black, only a few details, and simple in style. I know there are hundreds and hundreds of people like me across the world. No, orange is not the new black and there will not be any "new" black. Black clothing has and will always have style! That's why I'm so glad that it's possible to combine minimalist clothing with unicorns.
If you prefer simplicity, but still feel that unicorns are close to your heart or are your spirit animals, here (Etsy) is a hoodie that has just a hint of your secret passion on it. When people look closely, they might think you're either a strong player in the mysterious startup world, or just mesmerized by a fantasy unicorn world.
Pretty, minimal, neat – always a good combination. The hoodie is 100% cotton, handmade, and will let you blend into the unicorn world without attracting too much attention.
There's another minimalist option that might suit you, especially if math used to be your favorite subject or you love different geometric shapes. Like the above, this is definitely unisex. It's black, comfy, has a pretty ambitious unicorn, and absolutely embodies the coolness factor which will let you wear it pretty much anywhere – but it's still subtle enough to avoid too many "Where did you get it!" questions from passersby. Check it out here!
Unicorn hoodies with messages
Half of my wardrobe consists of easy clothes, but the other half is there because of the great messages which the simple hoodies and T-shirts let me project. As a passionate writer and dreamer, I believe in the power of words and I love any opportunity to share them publicly without saying a word myself. For anyone who's with me on this, here are some cool adult unicorn hoodies I found with interesting and meaningful messages:
"Embrace your inner unicorn"
If you feel proud to call unicorns your spirit animals, this hoodie is for you. It comes in several colors and makes for cute and happy themed clothing. Something to wear while strolling around and enjoying the winter evenings at home, and you can be sure it'll pass on a shot of positive energy to any family and friends who catch you wearing it. If you're looking for a warm and adorable Christmas present for a unicorn lover, this is a pretty good start.
PS: families with small children will love it!
"Save the Chubby Unicorns"
If you want to be fun, unique, and actually spread the word about global problems in a light-hearted way, this is the hoodie for you. As rhinos also tend to have one horn on their forehead, there's been an increasing buzz around the question "Are rhinos just fat unicorns" – we also covered this topic ourselves in an article which answers this very question.
Luckily, this buzz around rhinos has also turned attention to the problems of rhinos being hunted because of their horns. We might not have much evidence for the existence of real unicorns, but we can be sure enough that rhinos are present, existing, and threatened with extinction if things don't change soon.
This cool hoodie will help you spread the word. It comes in many colors, so pick your favorite and pose for IG pics – and save the world at the same time. What a superhero! Check it out!
"Always be yourself. Unless you can be a Unicorn. Then always be a Unicorn"
Well, this phrase is better known from the superhero world, particularly from DC comics and Batman. But hey – sometimes a simple unicorn could save the world as well, especially if it was in a world-changing new fantasy book or stood as a metaphor for an amazing startup, one which has reached 1 billion dollars in value and is making our lives better. Take a minute to think about Uber and Airbnb. Those are our Super-Unicorns!
I truly believe this is the hoodie for all entrepreneurial-people out there. It's a simple reminder to start chasing your unicorns (as we do with our Unicorn Yard). And who could catch a unicorn more easily than another unicorn? So be a unicorn whenever possible! This hoodie does not only show your style, but  your lifestyle and attitude. It may even change your thoughts, helping to align them with your goals in life!
PS: this would be a very nice gift for all tech geeks and startup folks! It's highly recommended, and comes in different colors.
"My Unicorn ate my homework"
No explanation needed for this little gem. Get your hoodie here! This excuse might only work once, but it's worth trying, for sure, especially with the business professors! At the very least, you'll get some laughs!
Unicorn hoodies for Him
Unicorns are often thought to have more female fans than male fans, but luckily today's world is increasingly breaking down gender barriers – and this includes giving men the opportunity to proudly wear unicorns. Several of the hoodies already introduced above are unisex, but here are a few more that would also work well for males. They are cool, with personality and some very smart and masculine messages hidden in their designs.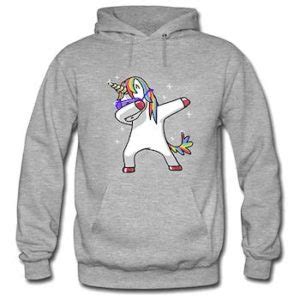 Check them out:
Dabbing unicorn hoodie for men
Yep!
Unicorns know all the possible hypes and trends these days, and this unicorn hoodie speaks more than a thousand words. It's possible to have it in a variety of masculine colors, and it's nicely minimalistic and simple. Check out here. 
Bodybuilding unicorn
There are a few things that pretty much always connect the guys, such as cars, computers, and gyms – particularly lifting weights, rather than yoga or dancing.
This hoodie will nicely suit every gymshark, and I bet many of them will wear it proudly until their muscles are too big to fit in it! A real gym lover might even wear it while warming up to exercise! Dare to muscle up, and look at that unicorn's face! Who would have thought they could be that fierce about dumbbells!
For the males who are more into fun and jokes, or those just starting out on their fitness journey, this is the unicorn gym hoodie for you! It's a friendlier approach than that fierce unicorn which seems fitting to the world of Vin Diesel.
Deadpool and unicorns
Marvel's Deadpool is a legendary hero, famous for having no filters. He wears a bright red costume, is basically immortal, and is so brutal both verbally and physically that it seems rather unbelievable that he could even live in the same universe as unicorns. Luckily, we live in a free world with a free imagination, and craziest ideas usually tend to be the coolest ones.
It seems we often love to juxtapose complete opposites! If you have a partner or friend who is into Deadpool… well, he will love it – look at it here. This might be the hoodie with the bizarrest picture ever. Deadpool riding a rainbow unicorn! Wear this one and I might just get you free tickets to see Deadpool 3.
Oh, I love shopping for hoodies, for myself as well for my partner. Make sure you let us know if you notice something unbelievably cool we should add here so others do not miss out! And feel free to post pictures of yourself in any of these: we'd love to see them!