We sleep for almost one-third of our lives. There's no question that sleeping is important, especially for kids, who spend their days out exploring new playgrounds, or taking care of the new "pet frogs" that they find in the backyard. Good sleep also helps them to deal with horror stories that their friends might have told them. It goes without saying that there aren't really monsters living under the bed, but try explaining that to a frightened four-year-old. Who are they going to believe? New cool friend or annoying mom? How about cool mom, who has several unicorn decoration ideas for their bedrooms? Yep, a bedroom filled with brightness and beauty is the best way to help kids fight off any ghosts and ghouls they fear in the shadows of their room. Even more – unicorns bring magic and rainbows and glitter! Best of all, they bring good dreams!
Here are a few tips to get you started on encouraging magical unicorns to guard your kid's bedroom. These are small, cost-effective, and pretty unicorn decorations that can really help your child's mood and increase the happiness of their dreams,as well as improve the attitude of the little room-owner. It's worth a try for sure!
Lamps and lights as unicorn decoration for bedroom – let the unicorns guide you through the darkness
Bedroom lamps in kids' rooms are good for creating the right environment for dreaming, and a calm atmosphere to promote peaceful sleep. They're a wonderful way to make your child feel they can continue the adventures of the day during the night.
The right light can also bring a tinge of magic to a place, so having a pastel-colored unicorn lamp can actually make the bedroom into a magical "unicorn land" or "Unicorn Yard" – as we obviously prefer. A perfect place for a little unicorn fan to look for a joyful unicorn on the cupboard or on the dresser, – just waiting for her return. With the right setting, your unicorn-enthusiast may even dream of these magical creatures! A simple light can transform the room, empowering the imagination and granting amazing dream rides on a unicorn's back.
Simple lampshades and calm dreams for the true little fan
Here is one simple lampshade that fits perfectly in a unicorn-themed bedroom. It gives enough light to welcome its little owner and help them overcome their fear of the dark, especially during long winter nights. It also gives plenty of light for playing, while offering the magical touch of a fairy tale.  
Here is another lamp that will brighten the dreams of the little unicorn riders. Prepare to listen to all sorts of unicorns stories when it sits on the nightstand – how they came at night, drank milk, and how fast their hooves skim the ground, even with little passengers atop their backs. You might even want to consider having two – and the little unicorn-lover, sleeping beside them, can feel the protection of two unicorns! You can check the prices by clicking on the links, but both are pretty cost-effective ways to make your child happy at night!
A unicorn lamp for a real dreamer
To make the bedroom decoration perfect for a real dreamer, the Unicorn and Star-Moon light projector is the ideal finishing touch. Every night, your little one can look for unicorns in the sky of the ceiling as they slip into sleep. Imagine those little unicorn friends getting excited about these beautiful mythical equines, watching them as their eyes grow sleepy – and having something more interesting to count than sheep! Happy smiles and heavy eyes are guaranteed, and as a bonus, your little one will be counting before you can even say "A Unicorn"! This could also be a lovely birthday present for a unicorn fan of any age – those stars and unicorns are mesmerizing! I would watch them myself!
The fairy-lights for unicorn lovers of any age
For anyone like me who wishes that Christmas could come every day, you might be amazed to find out that you can buy lovely unicorn fairy-lights to hang up for an extra dose of coziness. You could also put them in a big jar or just decorate the bedroom curtains with glowing and shining unicorns. They're just perfect decor for a kid's room or even a nursery, to soothe those little babies with unicorn magic and protection.
It's not hard to believe that this herd of unicorns could easily stand against Freddy Krueger or any of the other monsters who lurk under beds and breathe nightmares to children. The soft light will help even the smallest unicorn lovers feel safe and sound. Here is one chain of unicorn lights you might like to use to brighten up your day and is a perfect decoration for unicorn bedroom.
You could also use these lights as part of the Christmas tree decor if you need a change. The kids will love it too – making it totally worth those dollars. Ask around and find out if your unicorn fan prefers a single unicorn or a whole herd of them… We can probably guess the answer!
A Little Unicorner bedroom without unicorn-linen is just another room in a house
It is no surprise: the bed takes up a huge part of any bedroom.  And what is the best and easiest way to bring some magical colors and an overall unicorn theme to the room? It has to be the bed-linen, which can be found in all sorts of different materials and different colors. We love unicorns, and having the right bed set might be the most important and impactful part of the room decor, no matter what age the fan is!
I prefer colorful bed-linen myself and I believe colors are one of the most important components of bright dreams – for kids as well for adults. And if unicorns are literally the last thing one sees before falling asleep and the first thing one sets eyes on when the alarm clock rings – well, life is already magical! I cannot even think how excited kids are when they get to wake up surrounded by unicorns!
Since I personally love 100% cotton sets and I am not so keen on "pink",  this blue cotton bed set is one of my favorites. It feels fresh even in a totally pink "unicorn" room, or a white unicorn room, or a silver unicorn room, or a unicorn room filled with glitter! The gorgeous cool colors are perfect for sleeping under, and will contrast nicely with any color scheme.  The duvet cover has joyful unicorns that will bring your little one happiness and magic in the daytime too, making the bed like a real unicorn yard. With lovely cotton sheets, this is a sure way to encourage good rest and the best of dreams.
And hey, more than just kids can get excited by unicorns! You might also consider this cover as a hint about your family's new startup. It has been proven over the years that visualization is essential for achievement so unicorn decoration ideas do not only have to be for kids' bedrooms.
For the pink-lovers, try out this – also made of cotton for the most comfortable dreams and no moody mornings!
For the remaining little happiness-seekers, I think positive words and facts are a really good way to help them sleep better, and to encourage them to get into bed on time. "I need to go to sleep. I have a unicorn under my bed" sounds pretty convincing if your blanket basically says so. Check it out here: this 100% cotton unicorn linen bedroom setmight be the best investment ever for a kid's room, though you might have to prepare answers for questions like – "do unicorns lick my face during the night" and "do they poop candies". Little ones who sleep with this linen set might come up with all sorts of interesting questions. You may even want to get an extra set to ensure that wash day remain peaceful. It might be easier than trying to answer: where did my unicorn go?
A few unicorns on a wall sparkle up the room for all
A bedroom is a private fortress for its owner and since the taste of magic can change from time to time and day by day – especially concerning kids' tastes –  one of the simplest and most economical ways to personalize and decorate a bedroom is with different posters and pictures on the walls.
Here, you have options galore, so no matter what your tastes are, you should find things suitable for decorating your room with – even if your kid's mood changes frequently. If one day the kid is inspired by the silver unicorns who were wandering around in the Dark Forest in the Harry Potter world, you might want a silver unicorn – perhaps something like this canvas. It will bestow a wonderful simple magic on the room, allowing the kids to get super excited when they hear about "Harry Potter" as their bedtime stories. Those pure silver unicorns can be the perfect addition to all the pink and other bright colors you might already have up in the room.
Then again, when we think about inspiring a little unicorn fan with their bedroom, we might look at more pink-purple and playful unicorns. Their bright colors and friendly majesty will remind the room owner to believe in themselves and in magic.These and these picture sets will offer your child the best possible start to their days, lending them self-confidence and ensuring they get their morning dose of magic and positivity. Surrounded by such pictures, how can anyone get out of bed on the wrong side? Unicorns can do literally everything! Having them as the perfect bedroom wall decor is one of the easiest ways to keep them close by.
Wall posters are easy to attach, cheap enough to change once in a while, and they can carry different messages and styles. Here is one very personalized approach for kids' bedrooms. I bet there is nothing more perfect for a little girl than seeing her very own unicorn, standing proudly on her wall every night. With even this small touch, the whole room will feel like a unicorn fairy tale – full of magic and glitter! You could even add your own twist by using glitter to lend extra sparkle to the lettering for magic that will work at least the rest of the year!
Unicorn curtains – open your windows for magic!
Like the walls, the windows are spacious part of a room, and the more windows, the more light. But at night, to get better sleep, it's usually best to close up the curtains and leave the unicorns to fight with those first sunrays, which eagerly creep in to wake the dreaming child. "Not yet, Sun, let me sleep just a few more hours!"
Choosing the curtains to decorate your kid's bedroom depends on the other colors and styles in the room, but you can make almost anything work! There is no judgment when we play with magic and unicorns! I myself am pretty much sold on these curtains, as they seem detailed and cute enough to fit wonderfully in a kid's bedroom, but they also seem to be good quality, and look as though they would block out the light effectively as well.
I also found these adorable little unicorn curtain holders , which will fit all kinds of bedroom curtains perfectly, and add some simple magic to the upcoming day! It's often the small details that really bring joy to people, especially little unicorn-lovers, and in so many ways, simplicity works best.
A simple unicorn canopy brings out both the mystery and the fantasy
When I was a little girl, bed canopies always had a mystical, fairy tale vibe about them. They still do! Nothing has changed in fairy tales and princess traditions!
All Disney princesses in fairy tales had canopies around their beds, and therefore I always longed to have one in my bedroom. It goes without saying that a unicorn fan will find a canopy with unicorns the most appealing of all. The idea of unicorns galloping around them will delight kids of all ages, and possibly even some teenagers! Check out this canopy. You might be amazed at how easy it is to fix it in place and make the unicorn fan happy.
Oh, how special the feeling of sleep under a unicorn canopy is! No mosquitoes, no worries, no bad dreams! The little one's bed has turned into a princess one, and this princess does not have a prince on a white horse – her prince is riding with a silver unicorn!
Perfect unicorn-themed ornaments for bedroom decor
For kids, the bedroom is the place for the most valuable things they own – their toys. Their rooms are full of imagination, bursting and brimming with creativity and ideas. Sometimes the tiniest details matter to the overall atmosphere, and even little things can contribute to establishing a perfect feeling, real inspiration, and pleasant dreams. And as we all know, unicorns do have an amazing ability to sparkle up the everyday and transform a bedroom. Here are a few ways you can turn a good unicorn bedroom into one straight from a fairy tale:
Unicorn music and jewelry box
Music has magic! And unicorns have magic. That means that unicorn music and jewelry boxes have double magic. With a sweet lullaby, this cries out to live on a dresser or nightstand. Those little boxes carry a lot of mystery, secrecy, dreams, and the courage needed to fulfill them. I remember writing my wishes and putting them in a music box in my childhood – and I still do this! Luckily, unicorns make wonderful guides when it comes to fulfilling dreams! Check out this box, which even comes with some cute jewelry. For little unicorn princesses, it could mean the world!
Unicorn-style colorful dream catcher
If your little unicorn fan complains about nightmares, strange dreams, or the dog who ate all her cookies again, what you gonna get…? Dream-catchers! (I am sure you had the Ghostbusters tune in your head).
Dream catchers are actually made to solve that problem and trap bad dreams. A unicorn dream catcher works so well in a kid's room, and may even give them some hints on achieving the impossible – how to tame a unicorn. Alternatively, it might give them an idea of how to ride with one – perfect for replacing those bad dreams with good ones. I fell in love with this one, which I'm very tempted to have in my own bedroom to catch some ideas about how to start a unicorn-company. Colorful, meaningful and unicornizing! And perfect decor for the bedroom, whether the kid's room or the master bedroom!
Unicorn alarm clock
These days, mobile alarms are awakening millions of people around the world, but it is nice to know that old school trends are back and real alarm clocks are gaining in popularity again. An alarm clock is a nice and practical item in a bedroom, and who knows – maybe the mornings are easier if you let a lovely unicorn to wake you up.
For the digital-loving kids, here is a modern and colorful alarm clock cube with 4 sides of unicorn pictures. This clock can actually also serve as a colorful pastel night light, providing a gentle color-changing light.
I am more into retro and since these seem to be back in fashion for the younger generation as well, I just found this retro twin bell alarm clock. I am sure this could wake up even the heaviest sleeper. And gosh, how good it looks on the bedroom nightstand!
Bonus: kids learn to tell the time in a snap!
Unicorn pillows
If you feel the whole bed linen set is just too many unicorns for one kid, then a few decorative pillows on the bed, on the sofa, and on the desk chair seem a stylish and fun way to get across the idea that "here lives the unicorn lover". Unicorns can really convey the existence of magic, and every room should have at least a bit of magic in it! You might choose a whole set of colorful pillows like these to decorate the room, or just one big one like this to soften the chair or brighten up the bed. In any case, throw pillows are a great, cost-effective solution for bringing some sparkle and unicorn dreams to the bedroom. And which kid does not like pillow fight?
Psst: For your own bedroom, in terms of  good unicorn startup ideas, as my favorite pillow here suggests: "Dream big!"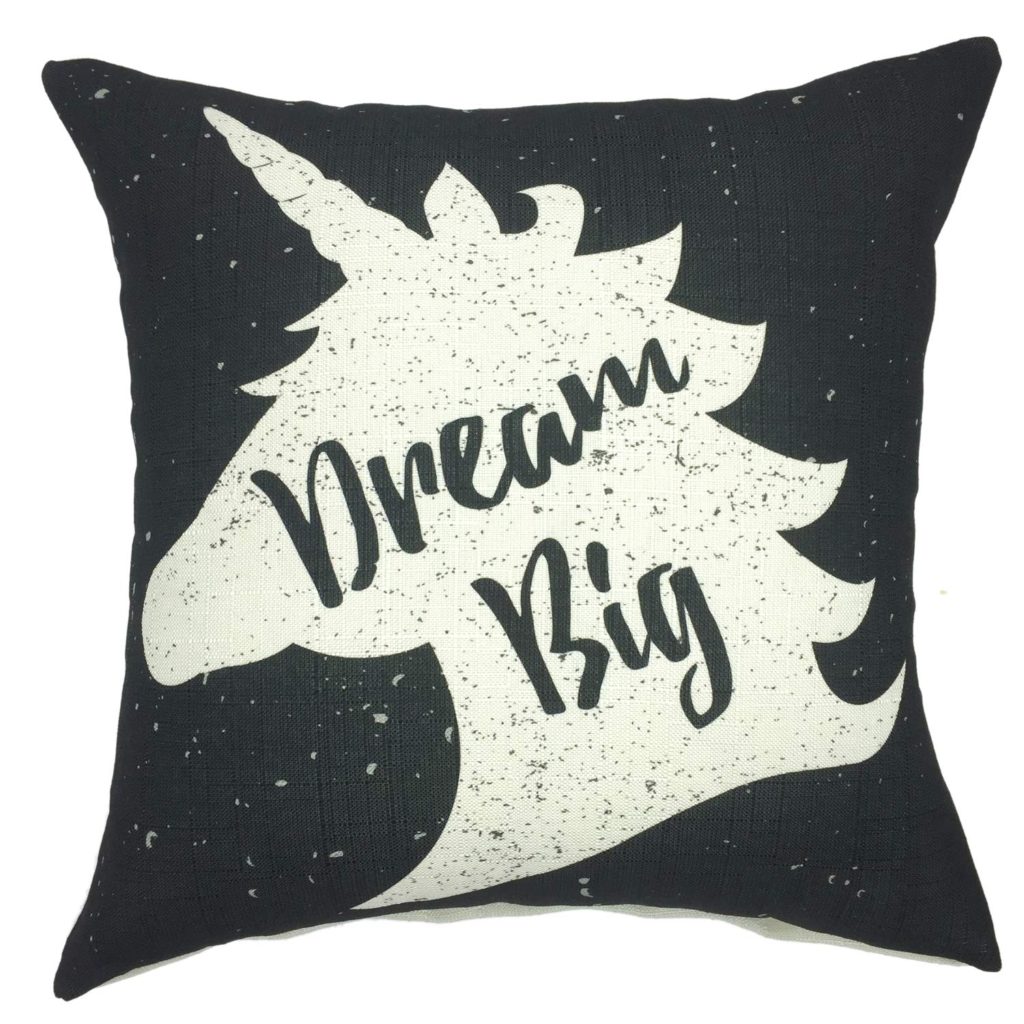 Teddy-unicorn
Teddy bears for unicorn lovers can be simply a soft and cuddly unicorn – something to hug during the night, and somebody to leave guarding your bedroom throughout the day. The teddy is someone to share your secrets with, and someone to whisper your worries to. Remember – unicorns are magical. Their horns keeps their owners healthy, and they breathe life and energy into a child's imagination. If you're looking for a teddy unicorn, you've got a lot of choice, but this mid-size and soft teddy unicorn seems perfect for night-time cuddling, while this bigger one can guard the bedroom while the owner is away. It would be fun to name these beautiful teddies too. I would call the big one "Guardian sparkle" – you might want to consult with its new owner, and see what they think.
Decorating a kid's bedroom is a perfect activity, and what could make it even more wonderful than creating your child's own magical place to play and hide from worries? If you have any more cool additions, feel free to share them with us! I would love to decorate the coziest unicorn bedroom of all!
PS: if you are having unicorn dreams after some unicorn decorations for bedroom, you may want to check over our article about unicorn dreams and interpreting them.