If you love unicorns like me, chances are you would love every room of your house to reflect that. If that's the case, here are some of our top picks for unicorn kitchen decor ideas. For many people, the kitchen is the heart of the home, and when the day has been long, most of us like a little boost while we deal with the daily chores of the kitchen.
There's not much that could be considered more cheerful than unicorns, and they'll help you out with every task you face – washing up, drying up, cooking, and maybe even slicing the vegetables. Here are some of our favorite ways you can cozy up your kitchen with a bit of unicorn magic.
Unicorn Plates
1) First is this gorgeous decorative plate with a stunning unicorn design. It's elegant and mature, and would look great in any kitchen. I particularly love the detailing on the wings and the beautifully swirling flowers. There's a choice of sizes, 6", 7", or 8", and it comes with a nice holder so you can display it beautifully on a counter or on top of a cupboard.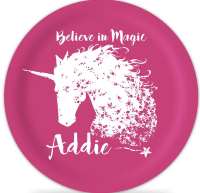 2) Secondly, this unicorn plate is marketed for kids, but I actually think the design would be perfect for adults as well. It's not a cartoon or childish, but is beautifully mature, and a set of these laid out on a dinner table would really add to the unicorn theme. I would love a whole herd of these plates, as I think the silhouette is a very striking and effective aesthetic, and each one could carry a message making it personal to the family members. They are melamine, so not suitable for microwaving, but I'd say ideal for kids or adults!
Unicorn Mugs
Mugs are another great way to brighten up your kitchen and show off your love for mythical equines, and they'll bring you a shot of happiness every time you drink from something so nice! We already covered some of our favorite unicorn mugs in our article 46 Unicorn Gift Ideas For Adults, so we're trying to pick a few different ones here, and it's not difficult with how many amazing options there are out there!
3) First off, could there be much which looks more magical than cats and unicorns combined into one glorious mug of rainbow elegance and cuteness? Its little smile, lovely rainbow handle, and adorable ears would have me smiling even on the worst of days, and it looks like it would hold a generous amount of tea or coffee – or something sweeter, like hot chocolate!
4) If you want a more abstract and artistic – and certainly unusual design – this espresso cup may be more to your tastes. That stunning gold against the black makes for a very striking look, and it would fit neatly and nicely in a cupboard. This is definitely up there as one of the most spectacular mugs in this category, and certainly different from the rainbows and glitter more commonly seen. A set of these would look amazing in a minimalistic kitchen.
5) If you'd rather have a standard-sized mug, this arty cosmic unicorn would also look very nice. The creator has beautifully captured the shape and elegance of a unicorn, and I love the colors and the crisp lines against the white background.
6) I think a lovely addition to these mugs – if you're a coffee or hot chocolate person – would be this stencil, ideal for applying a swirl of cocoa unicorn magic to your morning drink. I might even become a morning person if this was the bribe on offer!
Unicorn Cutlery
7) If you want some totally unique cutlery to match your unicorn plates and mugs, you might consider this amazing metallic hand-stamped set. I've never seen anything quite like this before, and it's totally customizable, so you can choose any message that you want to send! Admittedly, it isn't cheap, but it's very unusual and pretty, and supports a small artist, which is a lovely gesture. I'd definitely be ordering these for my own table if we didn't already have a surfeit of cutlery.

8) You could add to that overall aesthetic with a set of these extraordinary teaspoons, which have stunning flower-shaped bowls, also hand-stamped. They'd look amazing, especially when grouped with the other cutlery.
9) Although these scissors are intended for embroidery, we couldn't really miss them off the list of must-have kitchen gadgets! They'd be pretty neat for cutting open packets or trimming around the edges of pastry or other soft foods, and they'd be beautifully in theme with your unicorn kitchen.
10) The finishing touch to this lovely rainbow grouping would be these rainbow straws, which can again be customized to fit in with your theme. They're a great alternative to paper straws, helping both your wallet and the planet, which the unicorns would definitely like! Once your cutlery draw is a shimmer of iridescent rainbow, you'll be well on your way to having a unicorn kitchen!
Unicorn Towels
No kitchen is complete without a set of really nice towels to dry dishes on, and there are some great options here.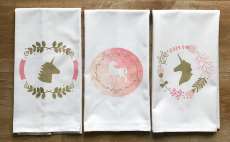 11) One of the nicest ones is this set of three. Each is differently styled and I love the simple silhouettes on such clean, sharp backgrounds. I'd be torn about which one to have out on display! They even offer the ability to change the colors, though for a small extra fee, so you can make them match your kitchen!
12) If a black-and-white design would be more to your tastes, this rearing unicorn is a stunning work of art. It reminds me slightly of the Narnia books, and I love how it manages to be both simple and detailed simultaneously. It even claims to be using eco-friendly ink, so it would make a really nice gift for a friend who's interested in the environment, or a lovely addition to your own towel drawer.
13) If you'd rather have a humorous towel to lighten up your kitchen, this rainbow power one is ideal, with bright colors and stars to set off any color scheme. Again, it's got a lovely clean looking background, and such a cute little face!
14) This black-and-rainbow towel is definitely another very striking option. The unicorn has a soft expression which is very appealing, and I imagine getting this out to dry the dishes would cheer me up no end! It's worth noting that it is microfiber; some people prefer this in terms of drying, while others are less keen as it isn't enormously eco-friendly. Either way, the unicorn is certainly pretty!
Mixed Unicorns
Here are a few of our other favorite ideas for maximizing the presence of unicorns in your kitchen.
15) First, this gorgeous sugar bowl, with its extremely elegant unicorns, and delicate little handles. It would make a wonderful addition to your tea tray, and would look amazing next to some rainbow cookies.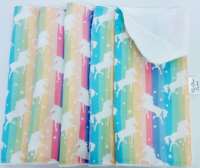 16) Next, for those looking to go green but still enjoy the convenience of kitchen towels, here is unicorn-themed "unpaper" towel. This stuff is designed to be absorbent and easily clean up spills, and can be purchased with or without poppers for convenient storage. It looks like a really magical way to clean up any kitchen accidents to me!
17) We also love this unicorn egg timer. It might win first prize for most content unicorn we've seen, and the delicate pink will appeal to lots of unicorn lovers. Get perfect eggs every time with this little guardian keeping track of the minutes!
18) Next up is this amazing kitchen roll holder. It's not like anything else I've ever seen, and would look great glinting in the sunlight, especially being that lovely rose gold. I really like how it stands, and hopefully it would be weighty enough to hold the roll in place while you pull a piece off. I think this is definitely an item for the most passionate unicorn lover – something to show off just how serious you are about these mythical equines!
19) In terms of storage solutions, why not put your tea, coffee, and sugar in this gorgeous matching set of unicornkilner jars? They're beautifully hand-painted, with tasteful pastel rainbows and such pretty, sparkling eyes. I think I'd be in danger of getting distracted every time I tried to make tea!
20) When it's time to sit at the table, this coaster and place mat set is absolutely adorable in all those pinks and purples, especially with a personalized name!
21) Alternatively, you could consider this unicorn table runner and matching napkins. You'll be dining in real unicorn style with any of these on your table, and I love that the napkins manage to have such a clean look to them.
22) For spicing up the fridge, we're totally in love with these unicorn magnets. You can be sure shopping lists and notes will be under the watchful eye of these colorful equines, though you may have to look out for kids rearranging and playing with them whenever your back is turned!
23) Alternatively, you could consider turning your fridge into a unicorn, with these lovely magnets. I'm growing increasingly attached to these mystical sleepy eyes, and would absolutely love to see a unicorn every time I went to put the milk away!
Unicorns Baking And Making
Since unicorns bring such a sprinkle of magic to everything they touch, you probably want to include them in your baking regime as well! The good news is, that's easy to do because there are so many options available.
24) Before we get going, first things first: an apron is an essential for any baker. I'm torn between this fairly mature, simple design, with a cute and stylish unicorn and your own name, and this totally adorable doughnut-eater, full of color.
25) I also love the artistic design of this one, with that bright rainbow emblazoned across the front. You can even pick your own font to make it really personalized to you! I'd really struggle to choose between these… having three aprons isn't excessive, right?
26) Moving on from the apron dilemma, I love this unicorn rolling pin. The simplicity of the design is just perfect, and the fact you can personalize it would make it a lovely gift for anyone – if you can bear to part with it! It's rustic and gorgeous, and will get that dough rolled out nice and flat before you can say "sparkle!"
27) If you're looking to print unicorns into your dough itself, you might want to consider this embossed rolling pin, which will leave a stunning unicorn print in anything soft and squishy. Become the real unicorn queen by handing out freshly baked cookies with these on them, or decorate pies and pastry tops! If you've got little ones, this would be great for play-dough too.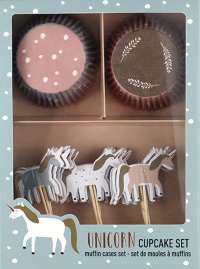 28) Sometimes you want to add a special twist to your baking, often for parties or occasions, but sometimes just because you enjoy adding a bit of magic to the everyday! Whichever is the reason, these unicorn cupcake decorations will definitely rise to the challenge. They are so utterly adorable! I particularly love the elegant fronds on the cases: what a beautiful way to display your culinary talents.
29) If you just want cupcake toppers, these golden glittery horns look simply magical on that white icing, and we still all know exactly what these are, despite how much is being left for us to imagine. These are so graceful and pretty.
30) For a more humorous touch, I also adore these cupcake toppers, which are utterly adorable and bashful. You could choose the most appropriate one for each friend, or let your guests pick the character they relate to the most – or just enjoy them all yourself!
31) If you're doing something like decorating a cake, you might want a unicorn mold for your sugar paste or marzipan, and I think anything that came out of this mold would look truly amazing. It's definitely a worthwhile investment if you make unicorn cakes on a regular basis, and I love that all three shapes are different. If you'd rather have something a little simpler, this mold would look good too, and you could also make fun ice cubes to delight kids (or yourself!) on hot days.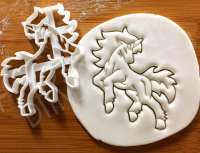 32) For the cookie creators, this cutter would make for some absolutely extraordinary cookies! You could probably also use it on other kinds of dough that don't rise too much, and if you're feeling really arty, maybe even experiment with some food coloring!
33) If you'd rather have a simpler and more generic cutter, this one will still make really pretty, professional biscuits – and who's going to say no to a unicorn cookie? You could also try out this cutter if you'd like a cuter, more cuddly unicorn look. Cover these cookies in rainbow sprinkles, and you'll have every kid in the neighborhood begging for one.
34) Finally, make sure you keep yourself safe while creating baked masterpieces with this unicorn pot holder. I love the idea of unicorns making sure your hands are protected from the heat of the oven, and that stylish design with lovely bright colors would look perfect in the kitchen. Definitely something to have out on display!
35) If you're more of an oven mitts person, these are totally gorgeous, and will ensure plenty of your arm is protected as well as your hands. I love the mix of black and rainbow, and how busy and colorful these are. I think I'd risk burning things due to getting distracted with looking at them! For those who can't make up their minds, here's a combination set with another stunning design and great color scheme.
Kids In The Unicorn Kitchen
We all know that kids like few things better than helping out with whatever their parents are doing, at least when they're little. Even some of the older ones will be swayed by the cool unicorn options out there for youngsters, so in this section, we've combined some of our favorite child-related unicorn things.
36) Something I remember from my own childhood is how special personalized plates are. I loved anything that had my name on it – and you can give your kid something even better, with this gorgeous unicorn-themed personalized plate. It's cute and simple, but would look great, and might even encourage fussy eaters to finish up their dinner.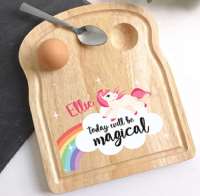 37) If your kid likes dippy eggs for breakfast, this personalized egg and toast board would make an ideal present for them. Being greeted by such lovely brightness in the morning has to be a great way to start the day, and I love the natural look of the wood, combined with that positive message. This would be absolutely magical for a child who loves unicorns and boiled eggs!
Wrapping Up The Kitchen
There's so many amazing unicorn kitchen decor ideas, it's hard to know where to stop! You can kit your kitchen out in full glorious rainbows, with stunning equine touches, and get the crockery to match. All your chores will seem lighter in a kitchen so bright and colorful, and you'll have these magical horses on hand to help you out with every imaginable chore.
We always love to see pictures or read suggestions from other unicorn lovers; if we've missed any great unicorn kitchen decor or you'd like to share pictures of your own unicorn kitchen, get in touch! Between us all, we'll design the ultimate unicorn kitchen to show off to the world just how amazing and beautiful these mythical equines are.