I think if I was making a film, I'd want to include some of these fabulous sparkling equines to bring a thrill of the unknown to it. Slipping through dark woods and glistening in the gloom, these creatures are very dramatic and look amazing on screen.
There are unicorn movies for all ages – unsurprisingly, more for kids than for adults, but there is magic for everyone to share in. Cartoons, computer-animated, live action; you name it and there will be unicorns in it!
Use the links below to quickly navigate to a section that most interests you:
Unicorn Movies: Cartoons For Kids1+
1) Princess Lillifee And The Little Unicorn (2011)
To start off with, we'll go for a movie which is definitely aimed at the youngest viewers.
Princess Lillifee And The Little Unicorn (English version from Amazon Prime) is a charmingly animated cartoon movie, German-made, and released in 2011. It's a sequel (following on from Princess Lillifee), but as with most movies for kids, it's not necessary to see the first to enjoy the second.
I love the bright colors and warm, friendly faces. In this movie, Princess Lillifee sees a magical unicorn in her dreams – Rosalie, who has come to ask for her help in caring for her baby, Lucy. Princess Lillifee awakes to discover Lucy is on her bed, and she must suddenly care for a brand new baby unicorn.
What is it about? The movie is chock-full of fun, friendly characters to delight a little audience, and it looks nicely animated too. There are no English clips available to watch on Youtube, but this Princess Lillifee And The Little Unicorn – Robert Brown Animation Scenes gives some idea of how cute and cheerful this movie is, and of the lively characters which populate it. It's definitely fun and would be perfect to settle little kids down in front of, playing to a desire almost every little girl has had at some stage – to own and care for a baby unicorn!
Movie: Lillifee And The Little Unicorn
Release year: 2011
Language: German
Actors: Maresa Sedlmeier, Carin Tietze, Sabine Bohlmann
Watch Princess Lillifee And The Little Unicorn in Amazon Prime!
2) Unicorn Jazz (2019)
Another option for the little ones, this Unicorn Jazz video is a short, rather than a movie, at only 13 minutes long, but brings to life the book of the same name, and has got great reviews! I love the art style and quirky drawings, and this might be a great option if your kids love the book, or if you want to get them into it!
What is it about? It proves that shyness can be overcome and that everyone is special: great lessons for little ones to learn early in their lives! It would be perfect for little kids who haven't got the attention span for full-length films yet, but who love a bit of music and singing, and perhaps a bit of dancing along too.
You can hear one of the songs from it at Unicorn Children's Book – Jazz Official Friendship Song.
Movie: Unicorn Jazz
Release year: 2019
Language: English
Actors: Lisa Caprelli, Davey Villalobos, Tiffany Mars.
Watch Unicorn Jazz in Amazon Prime
3) How To Catch A Unicorn (2019)
If that proves a hit or the idea of a book turned into an animation appeals to you, there's also How To Catch A Unicorn. Just the cover of this one is enough to sell it to me – I love that deep purple background, the rainbow colors, and the pretty stars – not to mention the cute behind of the escaping little equine friend!
What is it about? At only 8 minutes long, it does seem pricey, but might be worth it; you can also find a read-aloud version: How To Catch A Unicorn: Kids Books Read Aloud.
Lovely rhyme and gorgeous pictures, I think this would definitely appeal to most little watchers! If you are interested in more books about unicorns, here is a selection of "hands-on unicorn books for toddlers"
Movie: How To Catch A Unicorn
Release year: 2019
Language: English
Actors: Tyler Jackson- Price.
Get a DVD of How To Catch A Unicorn
4) Wonder Pets – Save The Unicorn (2006)
For something a little longer but still short at 22 minutes, you could try Wonder Pets – Save The Unicorn. I totally love the weird blend of real animals with cute animation, and I think kids would be enchanted by this, because it involves cute baby animals, singing, and even littler baby animals!
Everyone knows music is something kids connect with at a very young age, and this has great reviews. It's ended up in the "younger" section because it's suitable even from a little age, but a glance at the comments shows this will continue to delight kids for years! Even adults seem to enjoy the show. The length is again a good aspect of this short because it means your kids can enjoy a bit of screen time without going overboard, and it's also a good amount of time to hold their attention.
What is it about? With a magical unicorn in danger, this looks like a great episode of Wonder Pets to me, and the DVD includes plenty of other episodes to keep kids entertained for hours if they want more than these magical equines. A 2007 release, this looks like it still holds up and delights audiences today, more than 10 years later!
Movie: Wonder Pets – Save The Unicorn
Release year: 2006
Language: English
Actors: Teala Dunn, Danicia Lee, Sofie Zamchick
Get a DVD of Wonder Pets- Save The Unicorn from Amazon.
Unicorn Movies For Kids 6+ (Cartoons and Family Movies)
1) A Unicorn Adventure (2017)
Next up, definitely aimed at an older age range, is A Unicorn Adventure. This movie was released in 2017,  and it's definitely gone for high-end animation, at least for a movie aimed at children. The style is cute and relatively realistic, and is sure to wow its watchers, especially with that unicorn's fluffy pink mane and tail!
What is it about? In the movie, two siblings have lost their father, an archaeologist who was searching for a magical unicorn. He's gone missing, and it's up to them to find him – so they set out on a quest which will bring them into contact with these fabulous mythical equines and more amazing creatures!
It's always great for kids to have role models in the movies they see, and the characters Melody and Mo seem like they offer excellent, easy to empathize with options. The fun robot character is also likely to appeal to this age bracket. The villain also looks compelling, without being too frightening for kids to enjoy watching.
With lots of bright colors and weird and wonderful creatures to see, plenty of adventure, rickety bridges, flight, and other fun moments to engage them, I think this would be a firm favorite with many children. I'd certainly have been watching this more than once as a child! You can watch The Shonku Diaries: A Unicorn Adventure – Trailer and decide for yourself whether it's engaging and exciting enough to captivate your kids, but I know I'd have enjoyed it if only for that cute unicorn!
Movie: The Shonku Diaries – A Unicorn Adventure , see IMDB score.
Release year: 2017, Turkey
Language: English
Actors: John Snyder
Watch Unicorn Adventure in Amazon Prime.
2) The Last Unicorn – one of the most legendary unicorn movie!
I couldn't possibly make this list without including The Last Unicorn, which was a movie I watched repeatedly as a child, and really loved. It's one of the more unusual unicorn stories in that it's predominantly told from the perspective of the unicorn, who – upon hearing she is the last of her kind – sets out on a quest to find out where the others are, even though she risks her own safety in doing so. Beautifully narrated with the unicorn's voice, and filled with unusual and compelling characters, this was a firm favorite in our household.
What is it about? Movies doesn't follow a particularly standard plot arc, and has more than one villain to contend with. The colors in this film are more muted than is common for unicorn movies, but they definitely dip into the shadowy, mystical theme which will please an older audience, and the red bull looks all the more chilling for his subtle, dim surroundings.
The animation style is quite unusual and as a child, I found it a little strange, but as an adult, I really appreciate the beauty and unique form. It has beautiful music, too, and even though it's from 1982, it's still holding up with audiences today, as the Amazon reviews show! I loved the transformations in it, and the beautiful messages about friendship, happiness, greed, and contentment. You really feel that things have changed by the end of the movie, and there's a sense of sorrow for what's been lost, but joy for what's been gained.
I think it might be considered too scary for younger kids, and I'd advise parents check it out themselves before showing it to their children, as some of the villains are definitely on the creepy side, but this makes it more suitable and engaging for the older audiences – and even as an adult, I can really enjoy this film; I have plans to watch it again soon having written this review of it!
You can hear one of the songs here, America: The Last Unicorn, and this might give you some idea of how chilling and beautiful this movie can be at points!
Movie: The Last Unicorn , see IMDB score.
Release year: 1982
Language: English
Actors: Jeff Bridges, Mia Farrow, Angela Lansbury
Watch The Last Unicorn in Amazon Prime.
3) The Little Unicorn (2002)
The Little Unicorn also looks like a lovely movie for this age bracket, though some of the reviewers have evidently shown it to younger children too. I love the use of a real-life horse to represent the unicorn, as I think this achieves something seriously magical which it's difficult to do with animation.
What is it about? The story sounds compelling, starting with the tragedy of a favorite horse dying while giving birth, which morphs into the miracle of a baby unicorn for the main character, Polly, to love and care for.
The film has quite mixed reviews, and it does seem the antagonists may have proved a disappointment; they are only driven by greed, with no deeper motives or complexities. With Polly away, they try to steal the unicorn to bring some life back to their circus. This sort of story-line would probably please the age bracket it's aimed at, and the unicorn does look truly magical, especially for a movie that came out in 2002.
In the trailer, The Little Unicorn (2002), you can get an idea of the special effects used and the characters at play, and decide if this would be a movie to delight you and the family.
Movie: The Little Unicorn , see IMDB score.
Release year: 2002
Language: English
Actors: Brittney Bomann, Byron Taylor, Emma Samms.
Watch The Little Unicorn in Amazon Prime.
4) Nico The Unicorn (1998)
With rather better reviews, Nico The Unicorn, also looks like a wonderful and enchanting tale. It's based on the book "Nico the Unicorn".
What is it about? Movie follows the story of a young boy trying to cope with a disability that separates him from his peers. It's refreshing to see a male take up the main role in a unicorn movie, and also nice to see disabilities being championed and explored through kids' movies; awareness of these things can really help achieve better understanding and communication on both sides.
Again, the animation on this looks great, especially for the time, and the story-line seems more compelling than in the previous movie, with the main character Billy trying to overcome bullying, the pressures of keeping his unicorn a secret, and the difficulties of his injury.
He shows gentleness and a kind nature in saving a tired old horse from the slaughterhouse, only to be rewarded with an amazing new friend when it turns out the horse is pregnant. With a wholesome, happy ending, the film is suitable for all the family, and has some pretty music to accompany its fun, as you can hear at Nico The Unicorn (1998) Theme.
Movie: Nico The Unicorn , see IMDB score.
Release year: 1998, USA
Language: English
Actors: Kevin Zegers, Neige, Pierre Chagon.
You can get a DVD of Nico The Unicorn from Amazon.
5) Voyage Of The Unicorn (2001)
If you're looking for something a little longer for all your family to enjoy together, Voyage Of The Unicorn might be a good bet.
What is it about? It's a miniseries released in 2001 and deals with a grieving family who has just lost their mother. I like that the father is also involved in this series, recognizing shared family grief but also the different responsibilities their roles involve. They travel to a fairy-tale world which they must save, aboard a ship called the Unicorn, and they also encounter a unicorn whose tears they need to progress with their journey.
This series looks like it ticks all the adventure and fantasy boxes, with swords, ships, unicorns, dragons, and plenty of other mythical creatures. It's again got a very pretty soundtrack to set off the action and adventure, and reasonable magical effects considering its release date. I think children in particular will be enchanted by some of the outfits and transformations that occur, and you can see some of them in this The Voyage Of The Unicorn-Fairytales video.
I love the idea of a series which deals with shared family grief, and reminds people to appreciate each other while they can. Doing this within a magical fantasy word softens and strengthens the message, and this looks like an all-around great movie for a family to enjoy together, with unicorn magic to help along the way. Unicorns are often associated with guidance through difficult times, so the name of the boat and the unicorn encounter are particularly appropriate for the family's emotional journey, and I love the symbolism here.
Movie: Voyage of the Unicorn , see IMDB score.
Release year: 2001, Canada
Language: English
Actors: Beau Bridges, Chantal Conlin, Heather McEwen.
Watch Voyage of the Unicorn in Amazon Prime!
Unicorn Movies For Teens and Young Adults
1) A Trip To Unicorn Island (2016) – Youtube Original Movie
First on our list is Trip To Unicorn Island, which instantly fulfills the need for rainbows just with its cover! It's very much a modern-day movie, starring a Youtube sensation called Lilly Singh. She's intent on spreading a message of happiness, much like an actual unicorn! If you've seen The Last Unicorn, mentioned above, you'll understand just how important this association is; either way, Lilly is bringing hope and joy to her fans, and proving herself on her journey.
What is it about? What's particularly amazing about this movie is it's following an actual Youtube star's journey, and you can tell her fans love it! It's wonderful that people are able to share in her journey and story like this, and I love that this is a celebration of success and positivity, things we definitely need more of in this world! From the feedback, this looks like it would be a safe bet for pretty much anyone.
The reviews suggest this movie's even suitable for young kids, but I think it would particularly appeal to a teen audience who are totally engaged with Youtube, and may even already know of Lilly Singh from there. With a powerful female role model with over 10 million fans and a message of kindness, what more could you want from a movie! It's easy to see how unicorns are considered powerful and meaningful even among older audiences.
Movie: A Trip To Unicorn Island , see IMDB score.
Release year: 2016, USA
Language: English
Actors: Lilly Singh, Humble the Poet, John Bass.
Trailer:  A Trip To Unicorn Island – Official Trailer – Youtube Original Movie
Watch A Trip To Unicorn Island in Amazon Prime!
2) Killer Unicorn (2018) – Unicorn Horror Movie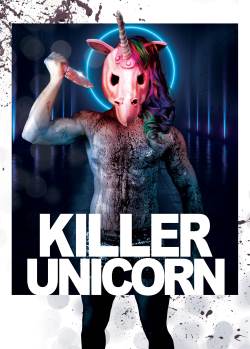 It's been well-established that many teens enjoy horror movies, so Killer Unicorn may prove a total hit with them – but be warned, many of the reviews suggest that a PG-13 rating is not appropriate, and this should be rated higher. This is a definite horror option, with that seriously creepy unicorn mask, and plenty of blood and gore. It's an LGBTQ+ film, which is great to see, as unicorns are often associated with this community, although perhaps not usually in the horror sense! See more about Unicorn LGBT meaning
What is it about? Unicorns may not usually be connected with darkness, but that juxtaposition can just make for a more frightening, twisted story. There are actually tales of dark unicorns (or black unicorns) or unicorn-like creatures lurking in the shadows of forests and swamps, and hunting down humans as prey. They are certainly immensely powerful creatures, so combining them with evil intentions makes for a great twist, though the main antagonist is a masked man, rather than an actual unicorn.
I'd say this is definitely one for parents to check out before they let teens view, as the themes may not be considered appropriate, especially for younger teens, but it offers an interesting twist on a horror movie, LGBTQ+ representation, and plenty of gore, so it will definitely appeal to some audiences! From the , it's not hard to see that there's a good bit of humor mixed in, so this looks like a lot of fun for the right audience!
Movie: Killer Unicorn , see IMDB score.
Release year: 2018, USA
Language: English
Actors: Dennis Budelsheim, Alejandro La Rosa, Markus Kelle.
Trailer: Killer Unicorn Trailer #1
Watch Killer Unicorn in Amazon Prime!
3) Unicorn City (2012) – for Tech-Savvy Gamers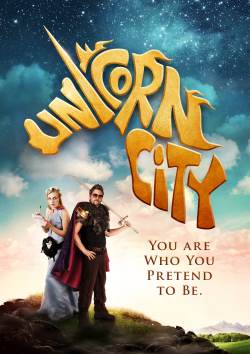 The gamers out there might really enjoy Unicorn City, a movie about a man named Voss who creates a utopia for local game enthusiasts in an attempt to secure a new job. This looks like a lot of weird and wonderful fun and is definitely appropriate for today's tech-savvy teens, especially those who enjoy Live Action Roleplaying and gaming! D&D, swords, quests, cosplay, and plenty of humor, this looks like a great choice for a picky teen.
What is it about? There's also some romance thrown in there, and some good twists, with a very relatable main character with a very relatable problem – he needs a job. It's quirky, light-hearted, and very fun for any teen or perhaps even adult audience!
I love the symbolism of using unicorns to represent utopia, especially as unicorns are often associated with valuable start-ups and great business ideas, which is essentially what the main character is working on. Fun all around, perfect for a relaxing movie night, and cleverly titled!
Movie: Unicorn city , see IMDB score.
Release year: 2012, USA
Language: English
Actors: Jon Gries, Matt Mattson, Clint Vanderlinden.
Trailer: Unicorn City – Official Trailer
Watch Unicorn City in Amazon Prime!
4) Unicorn Store (2017) – The Netflix Movie
For a wonderful, feel-good movie, Unicorn Store, released in 2017, is a fantastic choice.
What is it about? The main character struggles to find a place for her artistic talent in a highly commercial world. With social pressure mounting and her sense of failure increasing, she decides to put aside her dreams and step into the "real world" – but finds herself lost and unhappy as a result. She needs something magical to happen – and that's when unicorns and dreams re-enter her world.
This movie deals with the transition into adulthood beautifully, encouraging people to keep their dreams intact and believe in themselves. It's a fierce reminder that nobody has it all figured out, and that it's okay for things to go wrong.
I love how unicorns provide guidance in the confusing world Kit is trying to deal with – a symbolism I think so many unicorn lovers will relate to. For anyone who wants to breathe in a bit of color and magic, and dream again, this is a wonderful choice of movie. It didn't score brilliantly in its reviews, but I think it looks fantastic and I'd definitely give it a shot.
Movie: Unicorn Store, see IMDB score
Release year: 2017, USA
Language: English
Actors: Brie Larson, Samuel L. Jackson, Joan Cusack.
Watch Unicorn Store in Netflix.

5) Charlie The Unicorn (2005) – available in Youtube!
For those teens who want something very weird and wonderful, and a long way off the beaten track, Charlie the Unicorn might be a great choice – it's a short comedy series. The animation is very basic, as it was initially made as a birthday present by Jason Steele for his mother. That doesn't make it any less quirky and unusual – probably more so, and I think it would really fascinate anyone interested in this sort of simple cartoon style.
What is it about? The characters are as unique as the style, with grumpy unicorns, traitorous unicorns, a good dash of cynicism, and plenty of surreal happenings. The plot looks very peculiar, with unicorns undertaking a journey to Candy Mountain, which the main character, Charlie, does not really believe even exists. They meet several strange creatures, such as a Liopleurodon, and the dialogue is as strange as the characters.
Even the ending of the film fits with the utterly bizarre theme, and I'm hardly sure what to make of this, but I know several teenagers who would enjoy it purely for being creative and adventurous. I'd certainly like to see it to get a better assessment of it!
Movie: Charlie the Unicorn, see IMDB score
Release year: 2005, USA
Language: English
Actors: Jason Steele.
Watch Charlie the Unicorn on Youtube and keep an eye on the new adventures of Charlie. Here is Charlie the Unicorn: The Grande Finale (Part One). 
6) Legend (1985)
For some amazing classic fantasy, the movie Legend – though made in 1985 – will still delight audiences today. The forest boy Jack must work against a demon who is seeking to destroy all the unicorns in the world – and wow, that unicorn in the accompanying clip looks amazing. The entire clip looks pretty amazing actually, definitely dated, but charmingly so, and with some stunning shots.
What is it about? It won the British Society of Cinematographers Award for Best Cinematography in 1985, which suggests it was something pretty special, although it wasn't initially a success. It was nominated for plenty of other awards too, and remains popular today, considered something of a classic from its time.
The characters look interesting, and while the effects may be a little over the top compared to some modern movies, I think this still has the potential to charm teens and adults who enjoy high fantasy and powerful movies.
I still can't get over how amazing that unicorn looks. Amazing looking film!
Movie: Legend, see IMDB score
Release year: 1985, USA
Language: English
Actors: Tom Cruise, Mia Sara, Tim Curry.
Trailer: Legend (1985) Trailer
Watch Legend in Amazon Prime.
Best Adult Unicorn Movies
1) I Believe In Unicorns (2014)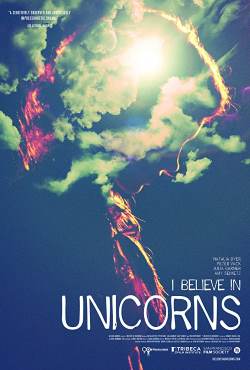 First up, I Believe In Unicorns, a coming-of-age movie with some very sad themes in it. The protagonist is a young teen who is caring for a wheelchair-bound mother.
What is it about? The weight of responsibility that is placed on her will speak volumes to any adult watcher who has helped care for another person. She runs from home to plunge into a romance with an older guy, but it doesn't go as planned, as the relationship devolves into abuse, and she struggles to cope.
This is definitely a movie with adult themes, a lot of pain, and sorrow. It represents the end of childhood and imagination and explores some very painful moments. It obviously rated highly with its audience and looks like a sad, but beautiful story. It would certainly make for heavier watching than many of the movies listed here, but might be all the more beautiful and poignant for that.
Movie: I believe in Unicorns , see IMDB score
Release year: 2014, USA
Language: English
Trailer: I Believe In Unicorns Official Trailer
Actors: Natalia Dyer, Peter Vack, Julia Garner
Watch "I Believe In Unicorns" in Amazon Prime!
2) The Unicorn (2018) – Unicorns in relationship!
For a much lighter movie, you might want to consider The Unicorn. This 1 hour 30 minute movie focuses on an engaged couple exploring their sexuality and relationship. They've been engaged for a full four years, but can't settle to marriage – or a breakup – and so they decide to expand their relationship boundaries and explore new ideas by having a threesome.
What is it about? It plays with some of the issues which married, or engaged, couples might recognize, fears they might harbor, and doubts they might have. It also explores some of the problems which open sexual relationships could cause, though it showcases a healthy relationship through the lead female's parents, who do engage with group sex at times. The reviews seem to rate it pretty highly for great acting and writing, though there are some mentions that the comedy is a little "off the beaten track," as it were! It looks like fun nonetheless, especially for couples interested in better understanding each other and their relationships.
I particularly love how it's titled, because unicorns – for all their purity and gentility – have also been associated with sexuality for both males and females, and are an icon of the LGBTQ+ community, which includes the non-monogamous pairings. I think this is a fantastic name for the movie, and really recognizes the way we might idealize the fun of threesomes without really understanding their reality.
Movie: The Unicorn , see IMDB score
Release year: 2018, USA
Language: English
Actors: Lauren Lapkus, Nicholas Rutherford, Lucy Hale.
Trailer: The Unicorn Official Trailer HD
Watch The Unicorn (2018) in Amazon Prime!
3) The Unicorn (2019)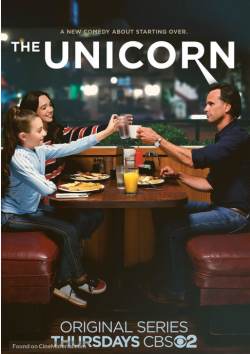 Finally, with the same title, The Unicorn TV series is a comedy about a recently widowed father of two, who suddenly realizes how unprepared he is for raising his daughters and re-entering the dating scene. This is definitely not a show about unicorns, but when he becomes highly sought after in the dating world, he's seen almost as a mythical creature by his friends – and dramatic comedy ensues.
What is it about? This is the sort of light-hearted fun that's perfect to wind down to after a long day at work, and it deals with modern-day issues, such as catfishing, raising children, school commitments, and romance. It's definitely something you can laugh to with friends or your partner, and it looks like a lot of fun, though the absence of any actual unicorns does disappoint at least a little!
Movie: The Unicorn (TV series) , see IMDB score
Release year: 2019 – , 13 episodes,  USA
Language: English
Actors: Walton Goggins, Rob Corddy, Oman Benson Miller.
Watch The Unicorn (2019, TV series) in Amazon Prime!
4) Chasing Unicorns (2019)
Another comedy that probably belongs more in the adult section than the teen one – though I think could be enjoyed by either category – is Chasing Unicorns. This is playing on the idea of unicorns being connected with start-ups, and the elusive – perhaps non-existent? – nature of a true unicorn start-up.
What is it about? Combining a young entrepreneur called Õie and a serial failure called Tõnu, this film is exploring the competitive nature of high-tech silicon valley, and the successes and failures that happen there. The characters look compelling, witty, and highly relatable, and the idea is very pertinent to so many people who are interested in tech and technological breakthroughs. For anyone who's ever dreamed of coming up with the "one" idea to smash through a boundary, this is a great movie.
Another movie that's interested in failure and not giving up on your dreams, admittedly with a different setting, this is just a demonstration of how unicorns represent hope to so many people across the world. I personally love the combination of mythical equines with the sharp reality of the tech world, and I think this sounds like a film with a whole lot of potential!
Movie: Chasing Unicorns , see IMDB score
Release year: 2019,  Estonia
Language: English/ Estonian
Trailers: Chasing Unicorns" 2019 Teaser Trailer
Actors: Liisa Pulk, Henrik Kalmet, Johann Urb.
Unicorns in the Sidelines: Movies with Famous Unicorns on it
Of course, not all movies which include unicorns have them as their focal point – but if you're looking to pick up something where unicorns play a part on the sidelines, there are still plenty of options. This might be ideal if you've already seen most of the unicorn movies that appeal – you can still enjoy some equine magic without having it at the forefront of the film!
1) Despicable Me (2010)
First up, if you're a Despicable Me fan, you may already have clocked Agnes' unicorn, a suitably adorable little plushie with a bright pink mane and rather worried expression. This is definitely a cute part of the film, made so much better by the little girl's delight with her soft toy. The little unicorn is a trooper, appearing in Despicable Me 1, 2, and 3, eventually being sold in 3, and getting a lovely goodbye from Agnes.
If you're keen to own a Despicable Me unicorn yourself, you can buy one at Despicable Me "Unicorn" Plush Toy Of "Agnes" – and who wouldn't want something so goofy and adorable?
Movie: Despicable Me (animation, family, comedy) , see IMDB score
Release year: 2010, USA
Language: English
Actors: Steve Carell, Jason Segel, Russell Brand.
Watch Despicable Me in Amazon Prime Video.
2) Toy Story 3 (2010)
Next, we have Buttercup from Toy Story 3.
This is another totally adorable unicorn toy, owned by the character Bonnie, who is very gentle and loving with her toys, and who becomes the owner of Andy's old toys at the end of the movie. Buttercup is totally adorable, and it's nice to see a male unicorn, who has a good sense of humor and provides a steady friend to the toys when they join his owner.
Again, you can buy your own Buttercup at Official Disney Toy Story 3 Buttercup Mini Bean Soft Plush Toy – and he looks very huggable!
Movie: Toy Story 3 (animation, family, comedy) , see IMDB score
Release year: 2010, USA
Language: English
Actors: Tom Hanks, Tim Allen, Joan Cusack.
Watch Toy Story 3 in Amazon Prime Video
3) My Little Pony (2017)
My Little Pony is certainly somewhere you might expect to see a few mythical equines, alongside their magical pony friends. There are quite a few unicorns in My Little Pony, as well as some alicorns and Pegasus. You can find a full list at List Of Ponies/Unicorn Ponies, which also helpfully tells you which episodes they appear in, and offers information about them.
Lots of these are available for sale on Amazon, such as My Little Pony Twilight Sparkle, or My Little Pony Princess Celestia. These look as magical as they do in the show!
Movie: My Little Pony: The Movie (animation, family, comedy) , see IMDB score
Release year: 2017, USA
Language: English
Actors: Emily Blunt, Kristin Chenoweth, Liev Schreiber.
Watch My Little Pony: The Movie in Amazon Prime Video
4) Harry Potter And The Sorcerer's Stone (2001)
Harry Potter and the Sorcerer's Stone is another movie in which unicorns play a minor role – but still an important one! The unicorn in this is beautifully done, glowing so prettily and tragically in the gloom of the Forbidden Forest, and I think viewers across the globe felt sorrow at its demise. The silver of the blood and the creepiness of the forest just add to the atmosphere, and I think the idea that killing a unicorn to drink its blood will curse you eternally is very fitting.
Unicorn tail hairs also make up many wand cores for the Harry Potter characters, and as is mentioned at the Unicorn: Harry Potter Wiki, only two other creatures are given this power. Unicorn hair wands are also the hardest to turn to the Dark Arts, again symbolizing the purity and incorruptible nature of unicorns. Unicorns don't appear again in the movies, but they are mentioned multiple times in the books, and possess amazing properties. Very fitting for a movie full of so much magic to include them at least once!
Movie: Harry Potter and the Sorcerer's  Stone (adventure, family, fantasy) , see IMDB score
Release year: 2001, USA
Language: English
Actors: Daniel Radcliffe, Rupert Grint, Emma Watson.
Watch Harry Potter and the Sorcerer's Stone  in Amazon Prime Video
5) Blade Runner (1982)
It's not surprising that many children's movies contain unicorns, but it might be a bit of a shock to learn that Blade Runner has a unicorn in it – or perhaps not, given that it's a pretty famous origami unicorn. It's certainly a unique and distinctive shape, but still very clearly a unicorn, and sometimes finding these mythical creatures in serious movies is even more poignant than when they make their appearances in kiddy films. If you want to own one of these without a hefty price tag, you could give How To Make An Origami Unicorn From Blade Runner a go. It might take you a couple of tries as it doesn't look too easy, but this is a wonderful way to get that stylish unicorn for yourself!
Movie: Blade Runner (Action, Sci-Fi, Thriller) , see IMDB score
Release year: 1982, USA
Language: English
Actors: Harrison Ford, Rutger Hauer, Sean Young.
Watch Blade Runner in Amazon Prime Video
Roll The Credits
This list pretty much proves that the stars of the show are unicorns. No matter how old you are, they offer magic and fun – or symbolize important paths which many of us will walk in our lives. For children, unicorns are enchanting magical creatures that will light the way, and which represent bravery, strength, and hope. For adults, unicorns often represent challenges which we need to deal with, or people or concepts which are unique or strange in some way.
No matter what sort of genre you enjoy, there are unicorn movies out there – from soft and fluffy to outright horror! There are things you can enjoy with your family, and things you can enjoy alone, and it's really astounding just how versatile these mythical equines are.
To finish off with, here's one last bonus movie in recognition of the nights getting longer and the days getting colder – A Unicorn Christmas.
Who doesn't love a magical Christmas movie with some wholesome cheer and a positive message? This one is suitable for the whole family, with a magical elf named Holly Berry needing a little help from a unicorn friend to realize that everyone is unique and special, and that Christmas is for everyone. I think this looks so heart-warming and fun, and perfect for snuggling up to with a mug of hot cocoa. What better way to spend your Christmas than with unicorns and a loving family?
If you have any favorite unicorn movies that are missing from this list, let us know! We're always keen to discover new things and amplify the incredible power of unicorns. We hope you have some wonderful movie nights up ahead, full of unicorn mystery and magic, and that you can create some fond family members with these amazing equines as your guides through the twists and tangles of films and TV shows.